My first hour in the Oracle Cloud
Posted by Luis Rodriguez ... on

Friday, 29 January 2016
Hello there!
This week I received a mail from Oracle with something like this written on it: The powerful Java you love now available for Cloud deployment. Don't miss this opportunity: a full-featured trial available at your fingertips! How could I resist??? So I clicked in the "Try it of For FREE".
I have to say I did try in the past the Oracle cloud and honestly my enthusiam was quite mitigated. However this time I had the feeling that the things were going to be different. And I was right, after few minutes I had up and running my awesome "Hello, Oracle Cloud" application!
The aim of this post is not to make a "how to" create your java service and deploy your application, for this you can follow this tutorial. I just wanted to share with you my first impressions about this service.
The first thing that grabbed my attention is that for all of the services an REST endpoint is offered. I did not dig down in all the possibilities of this REST API but at a glance it seems that provides all you need for managing your services: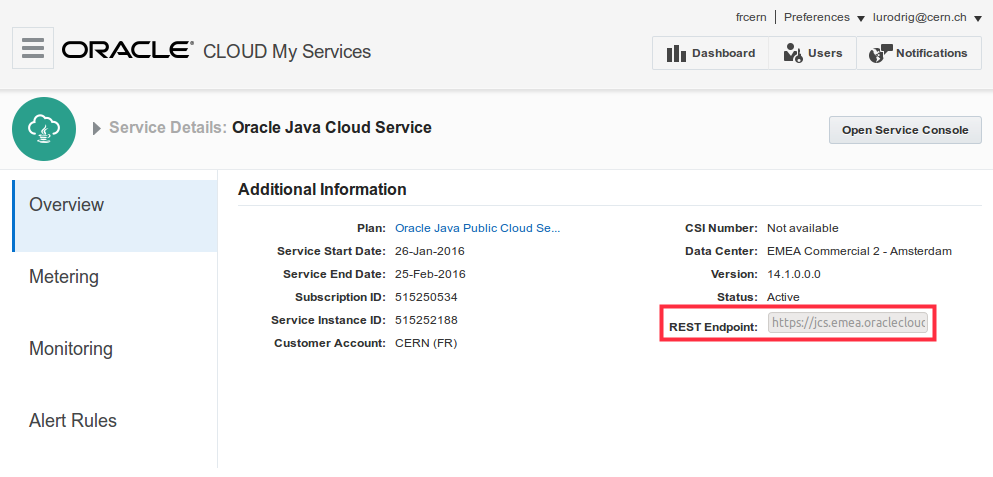 When you create your first service you will have to interact with some these endpoints, more specifically when you create the containers for them:
curl -i -X PUT -H "X-Auth-Token: AUTH_tkXXXX" https://em2.storage.oraclecloud.com/v1/Storage-frcern/MyJCSContainer
                                
curl -i -X PUT -H "X-Auth-Token: AUTH_tkXXXX" https://em2.storage.oraclecloud.com/v1/Storage-frcern/MyDBContainer
One thing that I found a bit annoying is that to have an Oracle Database Cloud is a requisite for the Oracle Java Cloud Service, no bueno!

But once I got my service running I found it more logical, because a Oracle Enterprise Manager instance is deployed out of the box for you, bueno!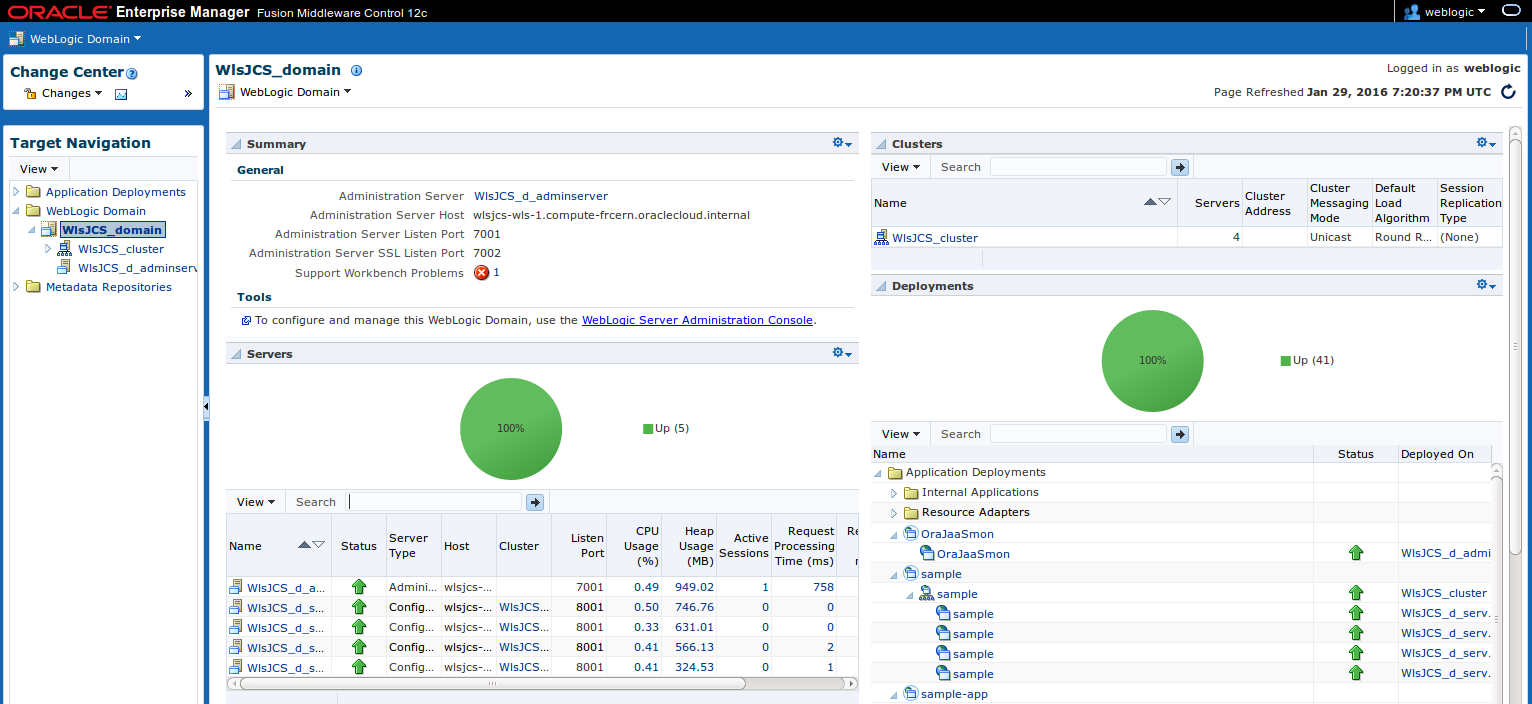 As you can see I created 4 managed servers for serving my sample application, what else! However be careful, if you do like me after few hours you will see this funny message in your dashboard:

And if you safely ignore it like me the day after you will get in your email inbox an email containing something like this: Your service is suspended due to exceeding resource quota. No panic! your resources have not been deleted. Just deleting a couple of managed servers and the issue is gone.
So my conclusion is that this release of the Oracle Public Cloud looks very promising, of course I still have a lot of things to investigate like certificates, security, SSO integration, deployment, APIs, Oracle Traffic DIrector (yes is installed out-of-the-box for you!) so more to come, stay tuned!
Have a nice and cloudy day!
Luis